Within the UN-Habitat Cities Investment Facility programme, EMIF Group is a Cities Investment Vehicle (CIV). The CIVs provide development finance and bankability guidance for projects that have reached the mid-stage of development and now require the typically more significant investment needed to complete development by acquiring the remaining major development assets (such as land and rights-of-way, environmental study and approvals, permitting, design engineering, legal agreements and review, etc.).
To facilitate this, EMIF Group has designed the Development Fund to address the US$2.5 trillion annual gap between global private capital and low- and middle-income infrastructure investment needs. The Development Fund focuses on subnational initiatives and provides the project promoter with the capital and bankability oversight needed during project development in order to successfully attain financial close with construction capital financiers.
Once an investee project has concluded its development phase, EMIF Group will work with and support the promoter to identify the appropriate entity for the construction equity tendering process. As part of the tender, a development fee (payable at financial close) will be included at a pre-agreed amount between the promoter, EMIF Group, and the lender syndicate. The Development Fund will seek 7.5% of the total construction value as a fee.
The Development Fund At A Glance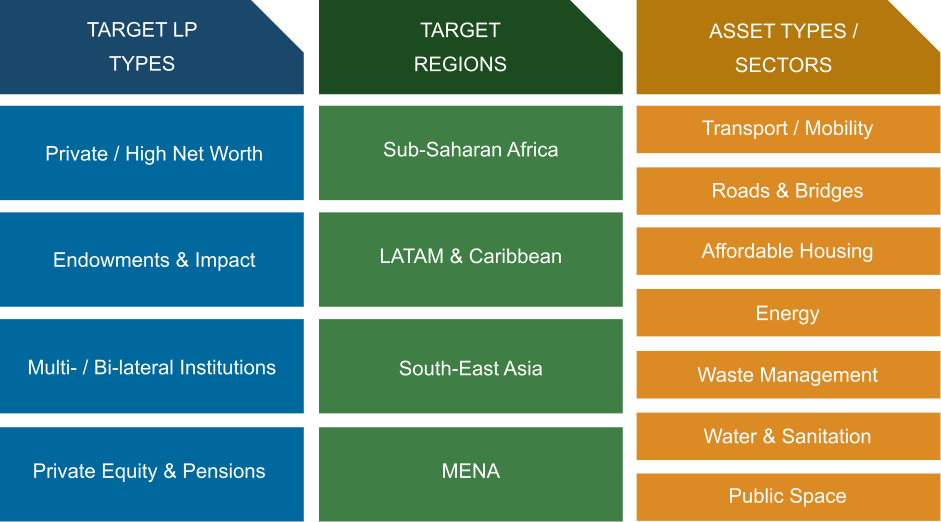 How We Add Value
Our capital is at risk and we leverage our team's extensive development experience to ensure investee projects are developed to international ESG and bankability standards prior to the public tendering for construction capital. Prior to receiving our support, however, investees have already benefited from the oversight provided through the CIF Cities Investment Advisory Platform partners. This support includes capacity building and advisory for the pre-feasibility and early-development work.
This upstream preparation work significantly reduces the Development Fund's risk as there is demonstrable government engagement and acknowledgement of the risk mitigation instruments required to attract private investment. As a completely independently-managed entity, the Development Fund only selects investees from the CIF once careful assessment of the prior development work is complete and a demonstrable path to construction financing is clear.
ESG Initiatives
As a signatory to the UN Global Compact, EMIF Group is committed to investing responsibly through its underlying ten principles governing sustainable and responsible investment. We will continuously pursue the highest standards for governance, transparency, and ESG-related impacts.
EMIF Group also strongly supports the empowerment of women alongside responsible investing. We are committed to advancing the 2X Challenge, which aims to unlock the multi-trillion dollar opportunity that empowered women represent by catalyzing investment in projects that support them. As part of the challenge, EMIF Group will ensure equal representation within the company and its boards while supporting business and funds owned by women, managed by women, or providing a product or service that empowers women.